924 galáctico
Bueno, realmente no es que sea "galactico", sino que esta tan reformado que parece venido de marte.
El vehículo en cuestion está en USA y se puse en venta hace unos meses. Sus características asustan (lo siento, estan en ingles):

Total weight 2150 lbs.
TIME:
Runs 6.30's 1/8 mile and 5.40 on the bottle ( NOS ) These times are in the higher elevation ( 3100 Ft. Above Sea level.) @ Thunder Valley in Bristol, Tennessee. A definite better clock in a lower elevation. Take it to Florida and gain 1second in the 1/8th off the bottle.
EXTERIOR:
The body consist of an all steel car with Fiberglass hood, front and rear bumpers and a one piece front end. It has an all tube chassis, funny car cage, new door, sun roof, & glass seals from Porsche. Rack & Pinion steering, Hurst roll control, Simpson Parachute, wheelie bars, Draglite wheels Rear is 15 x 15 & Front are 15 x 3 ½. Mickey Thompson rears ( 10 runs on them ) and Goodyear front runners.
INTERIOR:
All Gauges are fluid filled Auto Meter: Oil Pressure, Water, Transmission Temp, & Fuel Pressure. It has a Shift light, Biondo Mega box, Crossover delay box, Throttle stop. Interior is all aluminum. Seat has the 5-point harness.

REAR GEAR:
Rear end is a Dana 60 w/ 488 Richmond gear. Wilwood Brakes Chassis Engineer Ing. w/ Coil over shocks & 30 spline strange axle.
UNDER THE HOOD:
Engine is a 454 bored 30 with K&N top flow & air filter w/ 750 HP Holley Carburetors. 150 - 250 NOS System, Team G Intake, 2 Holley Blue Fuel Pump, 219,188 valves, Roller Rockers, Kmotion Valve springs ( K900 ). 700 lift Cam, Headman Headers, MSD ignition system: cap, rotor, wires, coil. Flying Magnet Crank Trigger, 7A1-2, 3 step, mini race starter, and aluminum radiators.
TRANSMISSION:
Transmission is a 2 speed power glide, Hurst quarter stick shifter, Biondo Electronic shifter, Transmission shield, TCI converter, Flexplate, Hardened input shaft, ProTrade Valve body, 176 planetary, Trans cooler.
FACTS:
There is 30K of parts alone in this car not to mention the resources that were used to help reduce the price of some things purchased. It could not be built for this price if your labor is worth anything.
Y unas fotillos: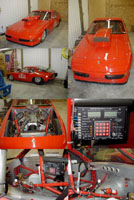 Última actualización: Miércoles, 22-Dic-2004